How to keep Your Boiler in Top Running Condition
Your water boiler is an essential piece of equipment that is used to heat your water and heat your house. It is not something you want to have cut out on you suddenly, especially in the winter. Despite that fact, it is often one of the most neglected appliances in the house when it comes to routine maintenance. Here are a few boiler maintenance items that are fairly easy to do that will help your boiler stay in excellent working condition.
Clean Flues and Vents
Your boiler needs air to make combustion and run properly; if this air gets cut off it could cause the system to repeatedly get too hot or start working inefficiently. That is why it is important to check your flues and vents for a buildup of dust and dirt; it is something that should be done at least once every month. Even if there is only a small buildup, take care of it right away before it becomes a bigger problem later. You can clean it by hand or use a wet/dry vacuum with the system turned off.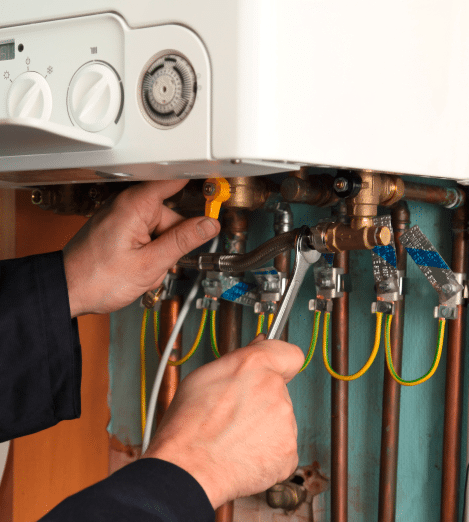 Check the Water Level
Having your boiler fire up properly is the key to keeping your boiler working but that will not do you much good if your water level is too low; low water level will cause the system to shut down from overheating and maybe even it won't turn on at all. Your owner's manual should tell you the proper water level for your boiler and it should be marked somewhere on the equipment too. Checking the water level is a critical step in boiler maintenance.
Leaks
If you find that your system gets low on water again quickly after refilling it you may have a leak. You should walk around the equipment and look for places that are dripping, show signs of moisture collecting or where there are puddles on the floor. If you do see one of these things and it's something that just needs to be tightened go ahead; if not, it's best to call a professional to come take a look.
Scale Removal
If you see a white residue build up around your boiler or start to collect on your bathroom fixtures you may have a scale problem caused by something in the water. This can be especially harmful if it is a lime buildup as this will deteriorate the inside of your boiler. You may need to add a filter on your incoming water line to keep this from happening.
Flushing the System
One thing that is good for the system and may help prevent such things as scale buildup is to periodically flush the system. This will ensure that the water is fresh water and not heavy water because it has picked up minerals from the system as it flows through it. It is a really good idea to do this at least twice a year as part of any boiler maintenance.
Annual Check
Even if you are doing a good job keeping up on your boiler maintenance it is a good idea to have a service tech come out to your house and inspect your system at least once a year from Dewelsh Plumbing. They know exactly what to look for with any boiler maintenance inspection.